"Joe's voice is an absolute treasure!"
"There's simply no better act in town!"
"We follow him everywhere!"
"His range and style is just incredible!"
"No one else would do for our wedding!"
"Down to earth AND crazy talented!"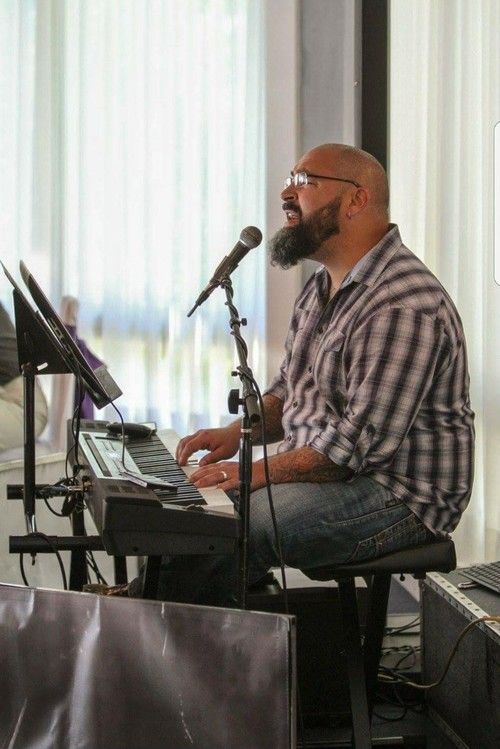 Joe's been singing and playing piano since age 5. Embracing everything from Frank Sinatra and Otis Redding, to Garth Brooks and even Metallica, Joe's true calling came when he was asked to be the lead singer for Brand New Sin. Three albums later, they headlined with major acts across the US & UK! They were featured in "School of Rock", on MTV, ESPN, and even the WWE, when famed wrestler The Big Show tapped Joe's soaring vocals for his entrance song, "Crank It Up."
Having played nearly 5,000 shows in Upstate New York since 2008 and continuing to write and reunite with his band to sold out shows, Joe has been invited by producers at NBC to audition for 'The Voice' and has won CNY's Best Male Vocalist Award for SEVEN years running! And in 2016, he collaborated with renown wedding expert Carlo Naples to bring the complete modern reception experience to old fans and new couples alike! But now with a K-ROCK sponsored podcast and new songs covered every week, clearly, he's so much more than JUST JOE!
Read an article about Joe here.
• One Price for DJ AND Live Music!
• Travel Included + No Hidden Fees!
• Plus Lighting, Photo Booth + More!
Unique, Personalized Performances

• JOE SURPRISES YOUR LOVED ONE WITH A SONG!
• BIRTHDAYS, ANNIVERSARIES - ANY OCCASION!
• WE ALSO DELIVER FLOWERS, CARDS & CANDY
• OPTIONAL SONGWRITING & VIDEO COVERAGE
Every song Joe has ever released is available on your favorite platform, with NEW RELEASES and featured covers on Facebook weekly! Wanna order actual CD's?
Click here.
Joe offers affordable weekday public shows while reserving weekends for private events. He takes requests for up to 3 hours with NO BREAKS, Sunday thru Thursday, starting at $350. Discounts for new, long-term + repeat contracts!
FREQUENTLY ASKED QUESTIONS


Do you play parties?
YES! We reserve weekends from April through November for weddings, but we book private parties at a discount within 60 days of any available date! Ask for a quote!


What about weddings?
Absolutely! Have our DJ or Joe play and sing LIVE for up to 5 hours, or get both ALL-DAY for ONE price - Travel included! We also offer elegant lighting and photo booths!


What songs do you play?
What don't we play?! We're fans of EVERY genre! Our DJ's cover all decades and Joe never discriminates! ...well, except for one band... We don't talk about them though :)


Do your shows have a cover?
Nope! Most venues compensate Joe in advance or have a sponsor. Joe does however graciously accept tips, which go toward his daughter's college fund. Scroll down to contribute!


What's a Love-O-Gram?
Joe rehearses the song you choose and then organizes a surprise visit with his mic and keyboard in hand to your loved one's home, work, school -anywhere- for any occasion!
Many are the blessings and challenges of being a working musician. From the outside, it looks like financial freedom, not having to work for the man, and a just a whole lot of fun. But in reality, nothing could be further from the truth!

Working for yourself, and in the medium of music no less, means little to no time for family, for socializing, even yourself! Between rehearsing, promoting, networking and performing, it often means 16 hour days, 7 days a week, and delegating responsibilities to my partner so I can spend time with my daughter.

None of it is possible without support, especially from my fans and family, that let me do what I love and make a living doing it. So, support local music! We make up the soundtrack to your life. You do the same for ours!

...and I am so grateful!