"Joe's voice is an absolute treasure!"
"There's simply no better act in town!"
"We follow him everywhere!"
"His range and style is just incredible!"
"No one else would do for our wedding!"
"Down to earth AND crazy talented!"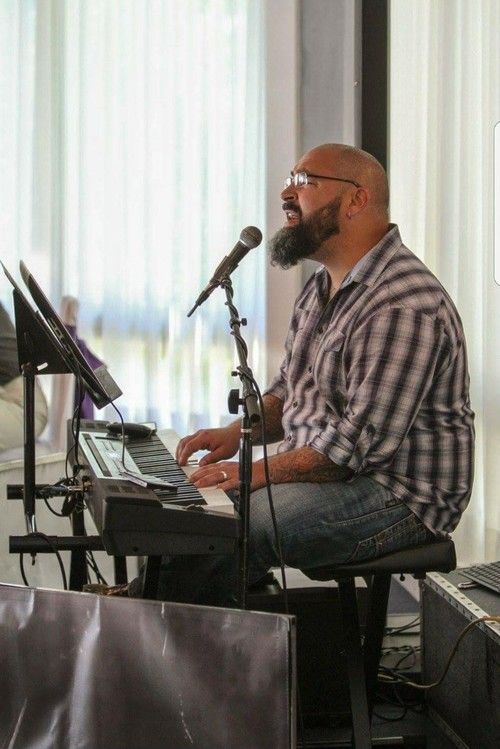 Joe's been singing and playing piano since age 5. His biggest influences were Ronnie Van Zandt, Otis Redding, Phil Anselmo, and Zakk Wylde. Embracing everything from Frank Sinatra to Metallica, Joe's true calling came when he was asked to be the lead singer for the rock band Brand New Sin.
After three albums and an EP, they headlined with Motorhead, Corrosion of Conformity and Type O Negative throughout the US & UK! Their music was featured in the film "School of Rock", on MTV, ESPN, and even the WWE, when THE BIG SHOW tapped Joe's soaring vocals for his entrance song, "Crank It Up."
Since 2008, he's played nearly 4,000 shows in Upstate New York as a solo act, and continues to write and collaborate with his old bandmates and a new band, Elephant Mountain. He still performs occasionally at the Lost Horizon, has won the award for Best Male Vocalist in CNY for seven years straight, and was recently invited to audtion for NBC's 'The Voice'.
In 2016, Joe expanded into private events, and in 2018, alongside DJ & MC Carlo Naples, they launched their NEW brand, bringing to fans and couples the complete modern reception experience! Upstate N.Y. born and bred! Southern rock influenced... World toured! Now more than ever, he's so much more than JUST JOE!
Read an article about Joe here.
• One Price for DJ AND Live Music!
• Travel Included + No Hidden Fees!
• Plus Lighting, Photo Booth + More!
Unique, Personalized Performances

• JOE SURPRISES YOUR LOVED ONE WITH A SONG!
• BIRTHDAYS, ANNIVERSARIES - ANY OCCASION!
• WE ALSO DELIVER FLOWERS, CARDS & CANDY
• OPTIONAL SONGWRITING & VIDEO COVERAGE
Every song Joe has ever released is available on your favorite platform, with NEW RELEASES and featured covers on Facebook weekly! Wanna order actual CD's?
Click here.
Joe offers affordable weekday public shows while reserving weekends for private events. He takes requests for up to 3 hours with NO BREAKS, Sunday thru Thursday, starting at $350. Discounts for new, long-term + repeat contracts!
FREQUENTLY ASKED QUESTIONS
Do you play parties?
YES! We reserve weekends from April through November for weddings, but we book private parties at a discount within 60 days of any available date! Ask for a quote!
Can hire you for my wedding?

You should! Have our DJ spin or Joe play and sing LIVE for up to 5 hours, or get
both
ALL-DAY for
ONE
price - Travel included! We also provide lighting and a photo booth!
What songs do you play?
Everything! Our DJ spins from every decade and Joe is a fan of EVERY genre! He never discriminates! ...well, except for one band... We don't talk about them though :)
Do your shows have a cover?
Most venues compensate Joe in advance or have a sponsor. Joe does however graciously accept tips, which go toward his daughter's college fund. Scroll down to donate!
How do Love-O-Grams work?
Joe rehearses the song you choose and then organizes a surprise visit with his mic and keyboard in hand to your loved one's home, work, school -
anywhere
- for any occasion!
How can I become a sponsor?
Joe's marketing staff offers affordable, exclusive advertising opportunities daily on social media as well as his public events with a reach of over 10,000 local impressions.
Click here for more information
Many are the blessings and challenges of being a working musician. From the outside, it looks like financial freedom, not having to work for the man, and a just a whole lot of fun. But in reality, nothing could be further from the truth!

Working for yourself, and in the medium of music no less, means little to no time for family, for socializing, even yourself! Between rehearsing, promoting, networking and performing, it often means 16 hour days, 7 days a week, and delegating responsibilities to my partner so I can spend time with my daughter.

None of it is possible without support, especially from my fans and family, that let me do what I love and make a living doing it. So, support local music! We make up the soundtrack to your life. You do the same for ours!

...and I am so grateful!